LNER A3 "Flying Scotsman" 5 Inch
This engine was bought as a "running engine".. which it did, but not so well..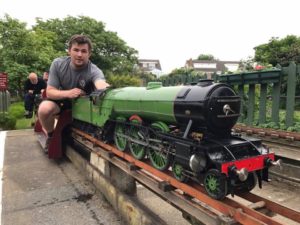 The engine was stripped down to the frames, theaxle boxes deemed "ok".
The rest of the chassis received new crank pins, rod bushes, new valve gear pins, new pistons and valves.
Pipework and manifold where also replaced to allow the engine to be driven with ease, plus a new loud whistle fitted. The wheel rims where also repainted and lined. The dome has now been replaced with a "banjo" type.
Now back with the owner, it has done a number of miles with ease..
(Me in the picture on its first steaming, after rebuild)
Testimonial of work
Latest Showcase Locomotives: