Kingscale Class 4 Tank 5 Inch
Check out the Locomotive Performance Upgrades section of Engineering Services for more details on performance upgrades
Currently being worked on.
As supplied, these engines look good and will run, giving the owner the experience of being able to drive a real live steam locomotive, as a reasonable price.
The loco is undergoing a mechanical upgrade, to improve performance and durability. This is due to the owner being a member of a club with a steep track.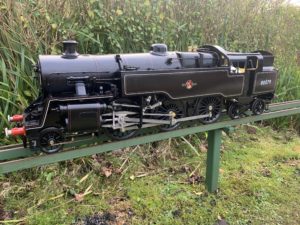 This includes:
New pistons.
New piston valves.
New axle boxes.
New axles.
New crank puns.
All new motion pins and bushes.
Some new pipework and the addition of ballast.
There is already a second booked in for similar treatment. We can also offer staged work on these locos, enquire for details.
Latest Showcase Locomotives: