LNER V4 "Bantam cock" 3 1/2 Inch
Here we have the 3 1/2″ gauge LNER V4 "Bantam cock" my dad (Paul Pavier) built and finished in 1993.
The engine was sold in 1998 to a dealer and then disappeared without trace. In 2015 it turned up on a dealers website, (money was kindly borrowed) and the engine was bought. The seller said in email that the engine had passed a hydraulic test, but only the hand pump worked.
Well, the story begins here, as the day after I got it back, I put it under a hydraulic test, so I could get a new boiler certificate for it.
Failed at 10psi.
After removing the boiler (quite disheartening), I found that it had been run dry and a firebox stay had gone.
I decided to attempt a repair. Borrowing some oxy-acetylene equipment, I ground the area around the stay away, so clean metal was showing and a good joint could be achieved with silver solder.
Thankfully this worked, then the engine was checked over for any other issues [of which was repaired] and the engine ran in steam just 2 weeks after I got her back.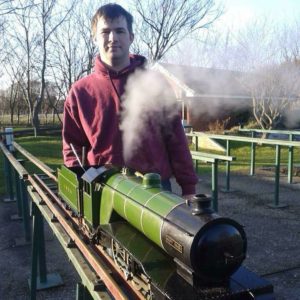 It's nice to have the old girl back and get some enjoyment out of her. A good design and I'd fully recommend anybody to build one.
On another note, be careful of what you buy, ask to see it under test. Any self respecting person would have no issue with doing so.
Bantam Cock Gallery